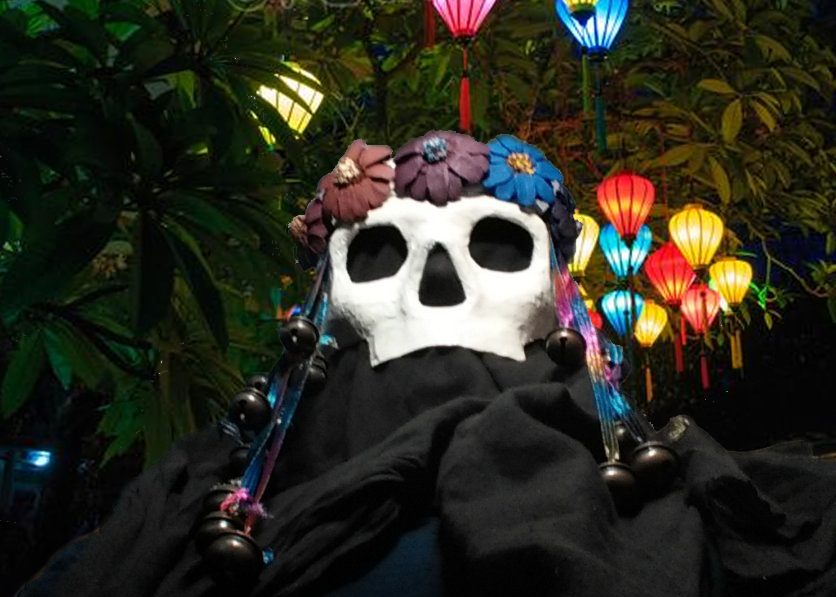 By Tony Wolf
I recently took part in the month-long online course Make Your Own Memento Mori: Befriending Death with Art, History and the Imagination, which was organized and taught by Morbid Anatomy founder Joanna Ebenstein. This course combines extensive and fascinating weekly readings and viewings, lectures, discussions, art and writing prompts and so-on, towards a "final project" of each participant creating their own memento mori, in whatever style and form they wish. My classmates produced an extraordinary range of projects, from short films and poems to miniature dioramas and Victorian-style paper theaters.
My own project was to elaborate the aesthetic of the flowerskull marottes into a wearable art piece.
The flowerskull cowl is fashioned out of five layers of papier-mâché, adorned with a floral caplet of sculpted and painted pine-cones and hung with colored ribbons and small brass bells. It's worn over a simple, bag-like hood. If you'd like to make your own, please get in touch via the comments and I'll be happy to offer step-by-step instructions.
As with the marottes, I chose the half-skull motif for the cowl to represent neutrality. Humans instinctively look for expression in faces – even skull faces – and including the lower jaw opens skull art to all kinds of moral and emotional interpretations depending on sight-lines, lighting conditions and so-on. The half-skull cowl imposes no symbolic meaning beyond the moment-of-truth statement that "death is". Like the Grim Reaper, which was the dominant personification of death in mainstream Western culture from the time of the Black Plague through to the 20th century, the mask represents death as the ultimate cessation of individual sensation and agency.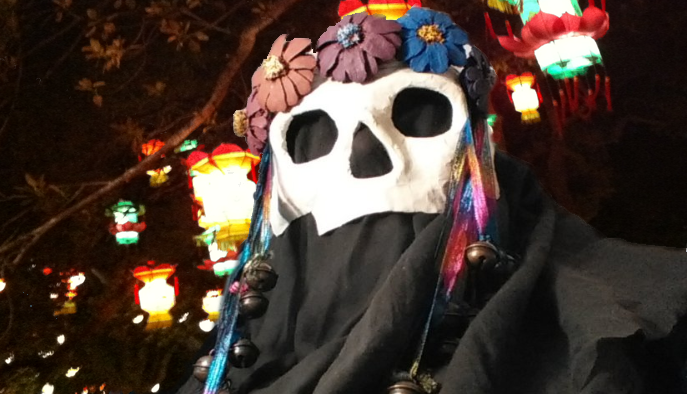 Unlike the Grim Reaper, the mask also symbolizes a secular, counter-cultural philosophy of life and death reaching back at least as far as the Epicurean garden-schools of ancient Greece, via the Rubaiyat of Omar Khayyam into the poetry of the Romantics and from there into a panoply of bohemian subcultures unto the present day, requiring only that "willing suspension of disbelief for a moment, which constitutes poetic faith".
The flowers, ribbons and bells represent a poetic conception of the human soul as being those thoughts, words and deeds of an individual's life that might be celebrated after death. The message of the flowerskull mask, therefore, is simply and profoundly memento mori ergo carpe diem – "remember death and therefore seize the day".
May the flowerskull mask serve as a talisman of that philosophy in the age of COVID-19 and ever after.