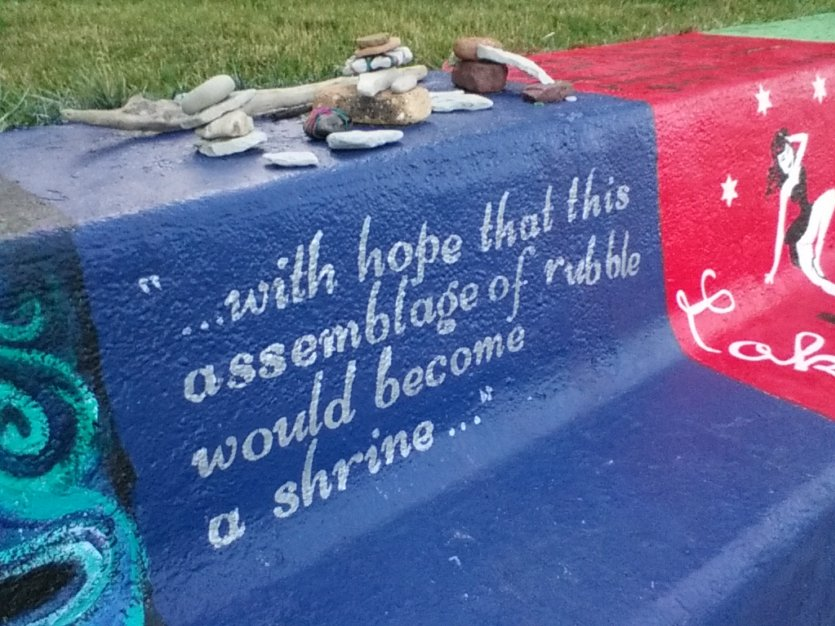 This is my Summer Solstice contribution to the Artists of the Wall 2021 project. It's a local (Rogers Park, Chicago) tradition extending back about 30 years, when residents started decorating a 600 foot long concrete bench/ barrier between Loyola Park and the Lake Michigan beach. Artists purchase the right to paint sections of the wall and the art remains there for a year, then the wall is whitewashed and a new "gallery" is painted.
The background is midnight blue and the quote is in silver. I added a scattering of stones and bricks that have been tumbled around in the lake for who knows how long and, when I returned to the site the next day, I was happy to see that others have already started adding to and re-arranging the assemblage.
I'm considering this to be a year-long experiment in interactive public art and I'll update this post occasionally as the shrine changes.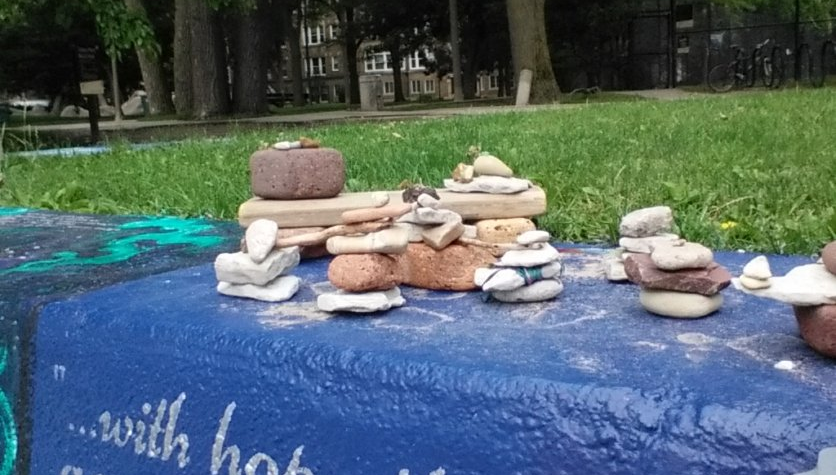 June 30th: about a week later, the assemblage is growing. I walk past the shrine most days and each time I've passed I've seen people stopping, taking photos or adding a pebble or two. One of the two stones I'd wrapped with colored ribbon has disappeared. Yesterday I watched a young guy spend about 15 minutes carefully re-forming the cairns and shifting them around. That made me feel good.
I'm very conscious that the ambiguous nature of the text invites multiple interpretations. It's likely that some people are adding stones specifically to commemorate lost loved ones; someone's already added a small pebble inscribed with initials.
July 3rd: The other ribbon-wrapped stone has disappeared. New pebbles continue to appear. For the past two days, I've found most of the cairns toppled and the stones pushed back off the top of the shrine, onto the grass; I've spent a few minutes re-assembling them into pleasing patterns. This is developing into a kind of ongoing, anonymous conversation. Was the impulse to disassemble the assemblage a philosophical statement about entropy? Did the person(s) take the shrine to be some kind of pagan altar, attracting evil spirits to Loyola Park? Was it simply vandalism? I'll probably never know. Yesterday, though, as I was reassembling the cairns, a young lady passer-by stopped and told me that she liked my artwork, which was a happy moment.
July 5th: the rubble was scattered again during last night's 4th of July celebrations at the beach and I arrived at about 7.00 a.m. this morning prepared to re-make the cairns, only to find an older man already arranging them into an elaborate S-curve and also adding some new items …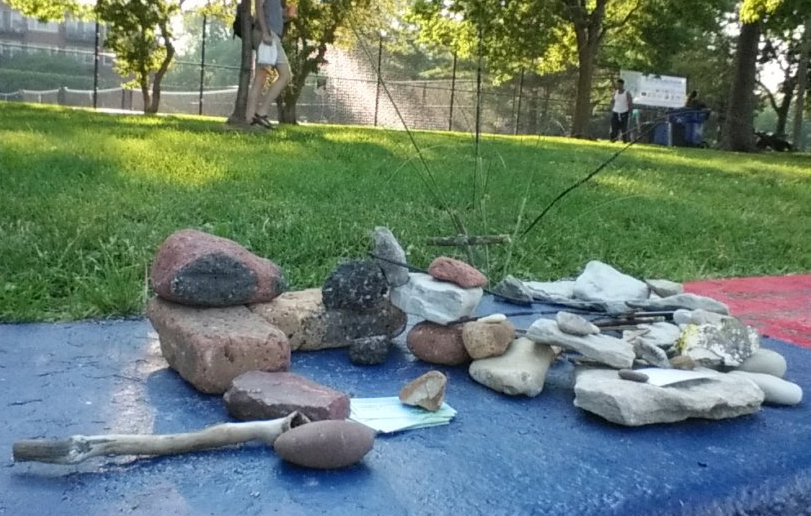 ,,, including a small hand-made cross and a hand-written note reading "May the rocks that bombard your soul give you growth and courage to build a life of compassion – Hollywood 2021"
July 10th: 22 days after I first established the shrine, I arrived this morning to find all the rubble gone. I'd been anticipating that this would happen eventually.
I scouted the area and found nothing, then followed a hunch and looked in a nearby recycling bin, and there found most of the large stones and old bricks. Perhaps a Parks employee assumed that it fell under the "litter" category, perhaps something else – who knows? Doing unusual things in public invites unpredictable reactions. I retrieved them and re-established them on the shrine.
July 12th: yesterday someone re-arranged the cairns into a symmetrical pattern for the first time: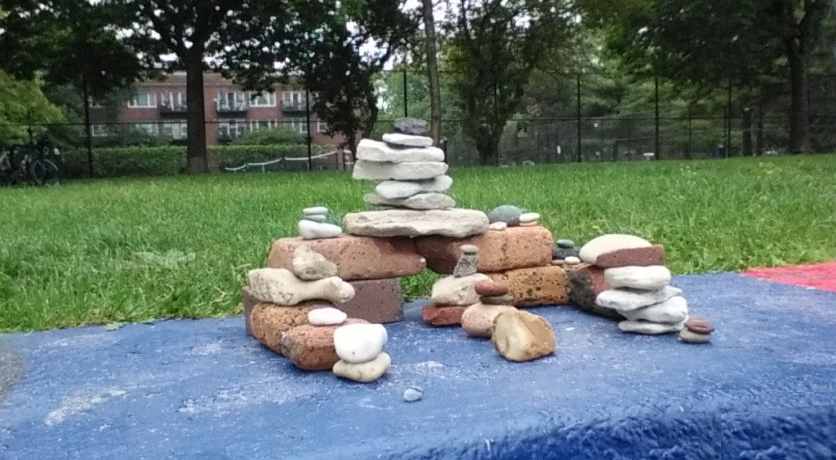 July 14th: someone's added some kindness rocks to the assemblage: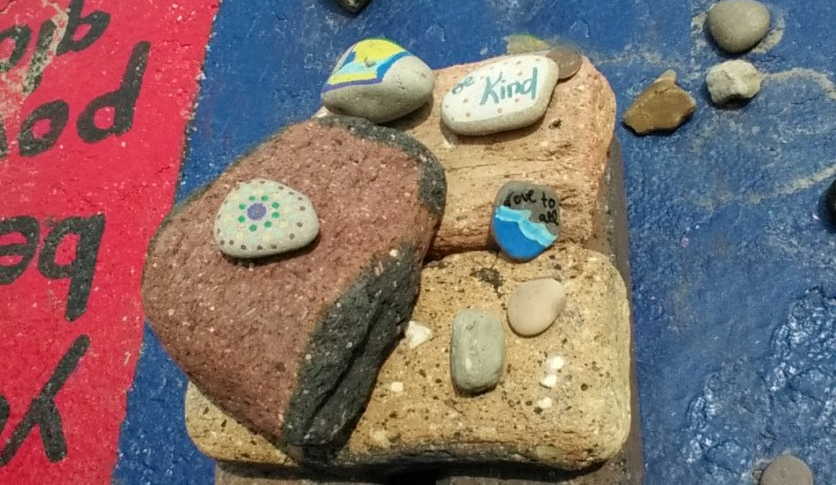 July 15th: this morning I arrived on site to find all the smaller stones pushed back onto the grass and the large stones and bricks scattered over a wide area of sand and tussock within throwing distance. As I was gathering and reassembling them, one woman stopped by to mention that she liked the way it looked and another placed a small pile of lake-smoothed glass "pebbles" on the shrine.
July 17th: the latest iteration of the assemblage, with the new "Be Kind" stone front and center. Someone spent some time on this one.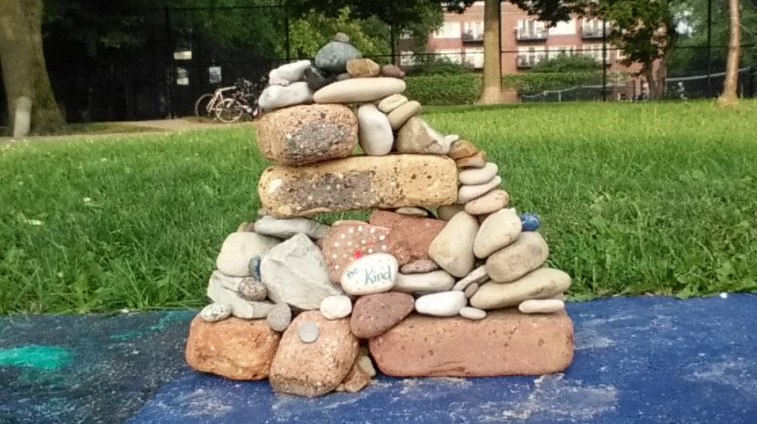 July 19th: I wasn't expecting the shrine to change so often, but here we are. At the moment it's radically reforming every couple of days.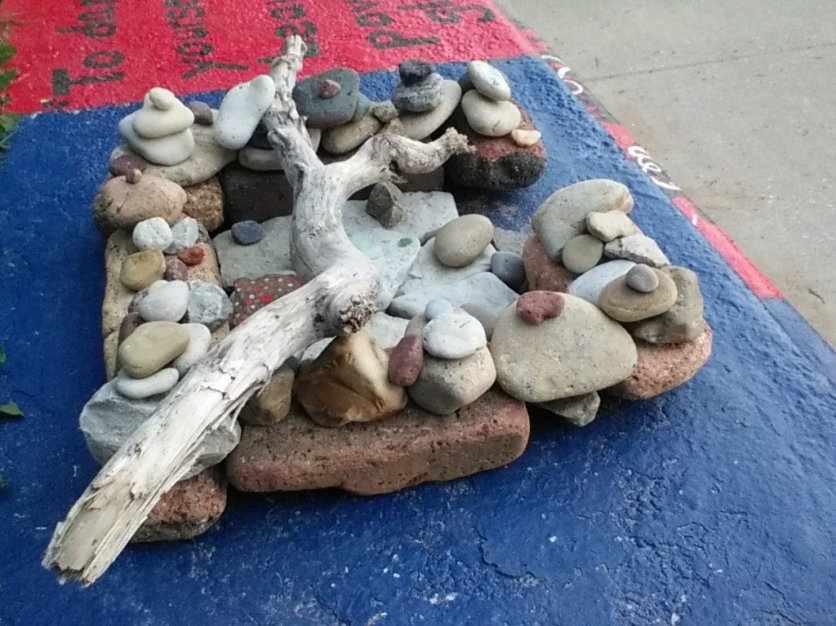 July 20th – 21st: more vandalism. I arrived on the evening of the 20th to find most of the bricks and large stones gone; some had been thrown into the sand, others were nowhere to be found. Some of the smaller stones had been painted, though – presumably in an unconnected event. I gathered what I could and re-assembled them on the shrine. This morning, everything had been dumped in a trash-can (apart from one pebble, perhaps left by a passer-by after the dumping); again, I re-gathered and re-assembled.
July 31st: I was away for the past week and returned to the site of the shrine fully expecting to find everything gone, only to discover that – although most of the rubble had, evidently, been removed while I was away – someone had also added a new arrangement of four pebbles and a twig. That gave me a warm glow. I augmented the arrangement and look forward to recommencing my daily curation.
August 8th: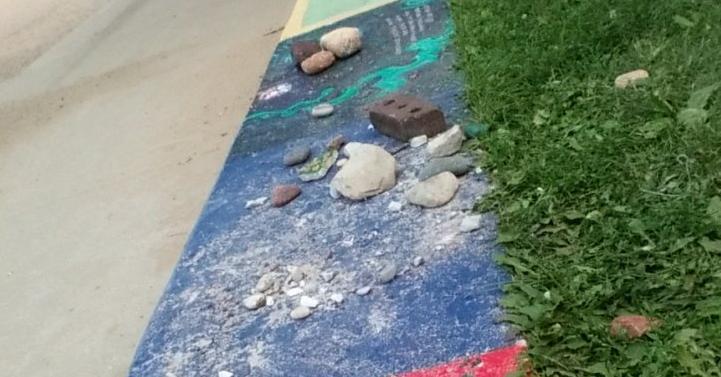 This sort of thing keeps happening; sometimes daily, sometimes a few days will pass before I return to the shrine and find many of the stones smashed and/or missing. When they're missing, they've usually been dumped in a nearby recycling bin. This morning, my beachfront buddy Hollywood helped me retrieve and re-assemble the rubble: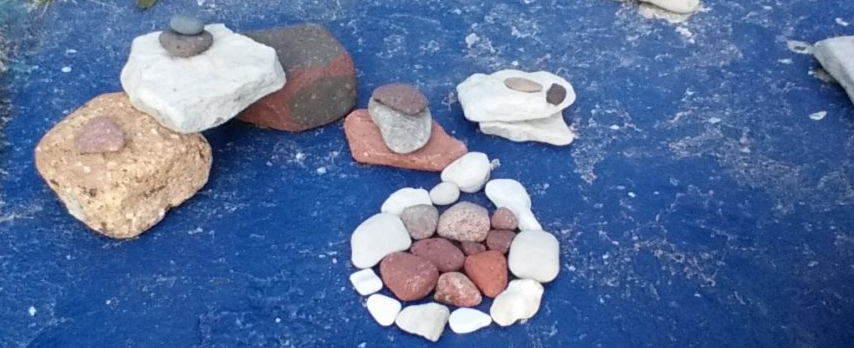 August 8th: Making my mini-pilgrimage to the shrine last night, I met and got into a very long and intense philosophical discussion with an older guy from Mexico. He's a devoted Platonist with a wide-ranging interest in lived philosophy; at one point he noted that he refused to fit into the dominant cultural paradigm of dividing people into "important" and "victim" categories. I explained a bit of my Way of Life and Death perspective and practice, and we parted friends.

This morning I had to reassemble most of the rubble again – retrieval of the larger stones and bricks from the recycling bin, etc. has pretty much become part of the routine now. Several people stopped to take pictures, but as I was walking away I noticed a man walk up to the shrine, snatch a handful of pebbles off it and toss them into the sand. He seemed to have done this before, and he seemed irritated.
August 24th: The past few weeks have fallen into a familiar pattern; several days will pass with only minor changes appearing on the shrine, then I'll find all the rubble scattered or sometimes missing. Sometimes some of the more brittle stones are smashed. Some of the scattering, I know, is done by children at play; the rest is vandalism. I reconstruct and move on.
September 17th: On the morning of August 27th I noticed a helicopter hovering over the water near Pratt Pier, which extends out into Lake Michigan very close to the site of the shrine. I often go out to the end of the pier during my walks, tossing a pebble into the lake as a memento mori gesture. As I approached the scene I saw divers, police boats, ambulances and fire trucks – clearly there was a massive search and rescue operation under way, and I gathered that a swimmer had gone missing.
His name, I later learned, was Miguel Cisneros and he'd drowned within a matter of feet of the pier. The pier structure itself creates extremely dangerous water currents, especially when the wind is blowing from the wrong directions, effectively generating a washing machine-like turbulence on one side and a powerful undertow on the other. Bystanders had watched from the pier, helpless to assist him.
In the aftermath, the Cisneros family and local residents pressured the Chicago Park District to install life rings at the end of the pier in hopes of preventing a similar tragedy. When the Park District dragged its feet, residents began to fund and install rings of their own accord, but the Park District authority had them all removed. The cause attracted widespread media attention and I was present at a candlelight vigil at the site on the evening of September 7th: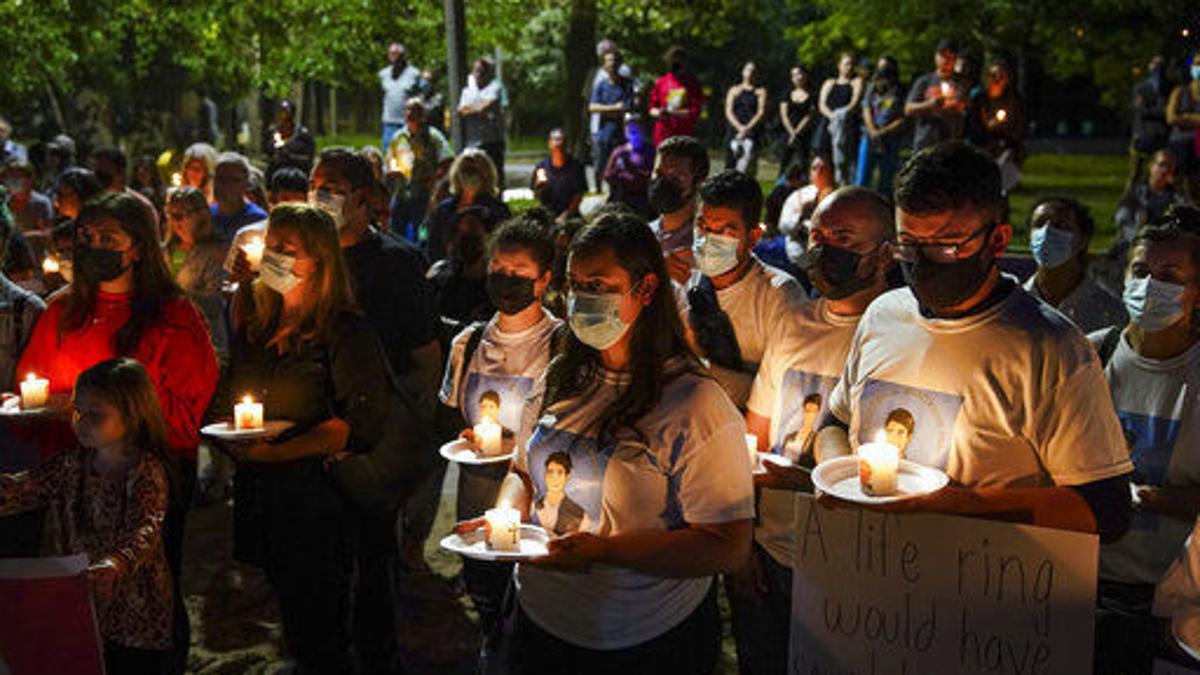 The next morning I found the wax remains of two large candles, one red and one white, that had melted down on the shrine. I'm glad that it served a real memorial purpose, though sad that it had to.
The Parks District has now installed a life ring at the end of Pratt Pier, and a graffitied memorial painting of Miguel Cisneros has joined that of Croslene Kettle, who drowned in the same area in 2018.
September 21st: overt vandalism at the shrine seems to have diminished recently. A few days ago I was re-assembling the rubble when an older woman approached to ask what it all meant. I started to explain when we were joined by another woman who, as it turned out, used to manage an art gallery, and her explanation was more coherent than mine.
September 25th: over the past few days I've been approached by several more people noting how much they like the shrine. This evening I found that someone had left this cardboard box on the seat, and the shrine itself was adorned as shown above: